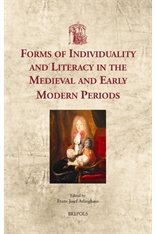 Forms of Individuality and Literacy in the Medieval and Early Modern Periods, ed. Franz-Josef Arlinghaus (Turnhout, 2015: USML 31), viii+317 pp. ISBN 978-2-503-55220-0.
Through case studies of a broad variety of medieval and early modern sources, this volume discusses whether the roots of modern notions of individuality can be found in pre-modern Europe.
'Individuality' is one of the central categories of modern society. Can the roots of modern individuality be found in pre-modern times? Or is our way of thinking about ourselves a very recent phenomenon? This book takes a theoretical approach to the problem, derived from Niklas Luhmann's system theory, in which different forms of individuality are linked to different structures of society in modern and pre-modern times.
The papers in this volume approach this problem by discussing a broad variety of medieval and early modern sources, including charters and seals, letters, and naming-practices in a late medieval town. Self-representation is also considered, in 'housebooks' and drawings. Textual studies include autobiography in German Humanism, and concepts of individuality and gender in late medieval literary texts.
Contents:
Franz-Josef Arlinghaus, "Preface"
Franz-Josef Arlinghaus, "Conceptualising Pre-Modern and Modern Individuality: Some Theoretical Considerations"
Mareike Böth, "Bodily Practices as an Expression of 'Individuality' in the Letters of Liselotte von der Pfalz (1652-1722)"
Brigitte M. Bedos-Rezak, "Loci of Medieval Individuality: A Methodological Inquiry"
Eva Kormann, "Hetero-Reference and Heterology: Autobiographical Writing, Individuality, and Gender on the Threshold of the Modern Period"
David Gary Shaw, "Expressing Your Self in Later Medieval England: Individuality and Social Differentiation"
Gabriele Jancke, "'Individuality', Relationships, Words about Onesself: Autobiographical Writing as a Resource (Fifteenth-Sixteenth Centuries) –Konrad Pellikan's Autobiography"
Matthias Meyer, "Individuality and Narration: The Cases of Ulrich von Liechtenstein, Helene Kottanerin, and Johannes Tichtel"
Gregor Rohmann, "Kinship as Catalyst of Individuation in Sixteenth-Century German House Books: A Reconsideration of Niklas Luhmann's Approach to Pre-Modern Individuality"
Christof Rolker, "Me, Myself, and My Name: Naming and Identity in the Late Middle Ages"
Heike Schlie, "Body and Time: The Representation of the Naked and Clothed Self in Religious, Social, and Cosmological Orders (Matthäus Schwarz, 1497-1574)"
Sabine Schomlinsky, "Dialogue Situations: Considerations on Self-Identification in the Middle Ages"