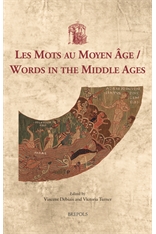 Les Mots au Moyen Âge – Words in the Middle Ages, ed. Victoria Turner and Vincent Debiais (Turnhout, 2020: USML 46), ISBN 978-2-503-58795-0.
This collection of essays is a return to words of the Middle Ages in and of themselves, uniting philologists, historians, epigraphers, palaeographers, and art historians. It probes the intellectual, technical, and aesthetic principles that underpin their use and social function in medieval graphical practices, from epigraphy and inscriptions, to poetics, 'mots', and 'paroles'. By analysing the material and symbolic properties of a particular medium, the conditions in which texts become signs, and scribal expertise, the contributors address questions that initially seem simple yet which define the very foundations of medieval written culture. What is a word? What are its components? How does it appear in a given medium? What is the relationship between word and text, word and letter, word and medium, word and reader? In a Middle Ages forever torn between economic and extravagant language, this volume traces the status of the medieval word from ontology to usage, encompassing its visual, acoustic, linguistic, and extralinguistic forms.
The Contents will be added upon publication.