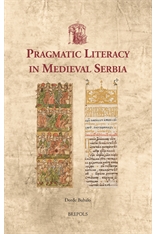 Djordje Bubalo, Pragmatic Literacy in Medieval Serbia (Turnhout, 2014: USML 29), xxvi+428 pp. ISBN 978-2-503-54961-3.
Examining the significance and uses of written documents in medieval Serbian society, for the very first time the manifestations of everyday literacy are revealed in the area where the East and the West intersect in southeastern Europe. 
The interweaving of Latin and Byzantine influences shaped the culture of literacy in medieval Serbia. Unprecedented in the field, this study aims to show that, even if only about 1000 Serbian medieval documents are preserved, this does not mean that little had been written. An exploration of the use of written documents in commercial, legal, and private relations in late medieval Serbia constitutes the basic scope of the research. It focuses on the documents' fate and on their social roles from the moment they were issued or submitted to their beneficiaries. The making of charters – by rulers, the Church, the aristocracy, towns, and public notaries – is analysed, as are the main fields of the use of the written word – evidentiary procedure, diplomacy, and correspondence. The citation of individual examples of pragmatic literacy allows us to give an approximate idea of how widespread the belief in the power of the written word really was. Even though the ways in which documentary literacy manifested itself in late medieval Serbia display certain idiosyncrasies, the growth in the use and reputation of written documents suggests that the Serbian case was not all that unlike the written customs and practices elsewhere in medieval Europe.
Contents:
Chapter 1. Introduction: Mediëval Serbia (Land, Ruler, People)
Part One: Written Records in Mediëval Serbia
Chapter 2. Several Observations on Sources
Laws — Documents — Literary Sources — Other Sources
Chapter 3. Characteristics of This Research
Chapter 4. Basic Characteristics of the Documentary Legacy of the Serbian Middle Ages
Materials — Writing and Language — The Names of Documents — The Fate and Preservation of Mediëval Documents
Chapter 5. Social and Material Prerequisites of Written Communication
The Development of Literacy — The Pre-Nemanjic Period: Examples of Documentary Literacy — Serbia in the Thirteenth and Fourteenth Centuries: Causes of the Surge in Documentary Literacy — Peculiarities of the Bosnian State 
Part Two: Agents of Literacy
Chapter 6. The Ruler
The Rulers' Ideology and the Written Document — The Reputation of Rulers' Documents (Public Faith and Permanence) — The Ruler and State Administration
Chapter 7. The Church
Written Basis of the Privileged Status of the Church — Documents of Bishops, Written Administration under the Auspices of the Church — Monasteries
Chapter 8. The Nobility
"Written Patrimony" — The Use of Documents as a Reflection of Social Status
Chapter 9. The Towns
Town Privileges — Administration — The Mining Business — Trade (Coastal Merchants in the Hinterland)
Chapter 10. Public Notaries and Private Legal Relations
Written Documents in Private Legal Relations: The Word of Law — Nomiks and Nomik Documents — Private Documents and Notes
Part Three: Domains of the Use of the Written Word
Chapter 11. Diplomacy
Diplomatic Correspondence — Diplomatic Missions — Concluding Treaties and Issuing Charters
Chapter 12. Correspondence
Hagiographies, Epistolaries, Drafts of Beginnings of Letters, Short Messages (Several Notes on Sources) — Private Correspondence of the Ruler's Family — The Ruler and the Church: A Symphony in Correspondence — Church, Nobles, Citizens, Private Persons …
Chapter 13. The Probative Force of Documents and Their Role in Judicial Proceedings
Means of Evidence: The Basic Purpose — The Role of the Written Word in Legal Procedures — Probative Force and the Use of Serbian Documents in the Maritime Communes and in Venice — Forgeries 
Chapter 14. In Place of a Conclusion: The Significance and Scope of the Written Word
Symbols — Factors of Dispersion — Literary Works as a Pattern — A Final Look
Appendix I: Latin Transliteration of the Old Cyrillic Alphabet
Appendix II: List of Rulers
Rulers of Medieval Serbia — Rulers of Medieval Zeta (Duklja) — Rulers of Medieval Bosnia
Select Bibliography
Index