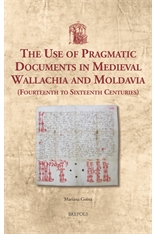 Mariana Goina, The Use of Pragmatic Documents in Medieval Wallachia and Moldavia (Fourteenth to Sixteenth Centuries) (Turnhout, 2020: USML 47), ISBN 978-2-503-58797-4.
In the region that was to become Moldavia and Wallachia, there are almost no traces of the use of writing for the millennium after the Roman Empire withdrew from Dacia. Written culture surfaces only by the second half of the fourteenth century, after the foundation of state institutions. This book surveys the earliest extant documents, their issuers, and the motives that triggered the development of documentary culture in Moldavia and Wallachia. By the fifteenth century, Moldavians were already accustomed to the use of charters. In Wallachia, noblemen also appealed to written records, but at that stage mainly in extraordinary circumstances. Women could not inherit land, and noblemen requested princely charters confirming a legal fiction that turned their daughters into sons. After the mid-sixteenth century, Wallachia experiences a steep growth in the number of charters issued. In this period of economic and social upheaval, charters proved an extraordinary means for the protection of landed property. Yet neither principality held secular archives — the storage of documents for later use in private hands suggests an early stage in the development of documentary culture.
By covering the 'birth' and spread of pragmatic literacy in medieval Moldavia and Wallachia, this book thus fills an important lacuna in what is known about the development of literacy in the later Middle Ages.
Contents:
Preface
List of Figures and Tables
Abbreviations
Map
Introduction
Chapter 1: Historical Background
The Political History of Medieval Wallachia and Moldavia – Church Organisation – Social History – Central and Urban Administrations – Jurisdiction
Part I. A Survey of the Sources
Chapter 2: The Evidence: Archives and (Indirect) Sources
Monastic Archives – Private Storage of Charters – The Importance of Indirect Evidence in Assessing the Spread of Pragmatic Literacy in Wallachia and Moldavia
Chapter 3: Documents Issued by the Office of the Prince
Land Charters (The Wording and Layout of Princely Charters) – Political and Commercial Treaties (Political Treaties; Commercial Treaties and Regulations; Enduring Oral Practices Recorded in Writing; The Textual Features of the Wallachian and Moldavian Treaties) – Princely Letters for the Exchange of Information with Foreign Institutions (Missives Related to Diplomacy and Politics; Trade Regulations and The Settling of Conflicts; Princely Requests for Foreign Goods Recorded in Writing; Other Personal Issues Addressed in Writing; Language and Layout of Moldavian and Wallachian Princely Missives)
Chapter 4: Diversification of Document Producers
Documents Issued by the Moldavian and Wallachian Town Administrations (Letters; Land Records) – The Clerical Milieu as Producer of Pragmatic Documents (Land Records; Written Wills; Other Pragmatic Documents Issued by Religious Authorities) – Documents Issued by Court Officials (Letters; Charters) – Land Records Issued outside Institutions – The Technical Literacy of Authors of Documents
Chapter 5: Moldavian and Wallachian Chancery Scribes
The Moldavian Evidence – The Wallachian Evidence – Foreign Scribes Active in the Moldavian and Wallachian State – Chanceries – Scribes Employed in the Urban or Regional Offices – Writers of Land Records at the Village Level – The Cost of Having Charters Written – Chancery Scribes as Proto-Diplomats – The Education of the First Literates
Part II: Use and Dissemination of Pragmatic Documents
Chapter 6: Records and their Uses
The Wallachian Context: Women's (Lack of) Rights to Inherit Land and the Transition from Oral to Written Forms of Land Possession – The Practice of Fraternal Adoptions Used as Proto-Testaments – Economic Crisis, Social Conflict and the Use of Written Records to Endorse the Rights of Protimissis – Moldavian Charters and their Use
Chapter 7: Falsification of Charters
Chapter 8: The Use of Written Evidence in Wallachian and Moldavian Dispute Settlements
The Wallachian Evidence (Orality as a Practice of a Judicial Process; Charter Evidence as an Aide-Memoire; Charters as Legal Proof?) – The Moldavian Evidence
Chapter 9: The Use and Function of Land Charters beyond the Courts
Chapter 10: The Perception of Land Charters
Chapter 11: Uses and Functions of Letters and the Status of their Users
The Function of Letters (Letters Used as Devices of Support; Letters as Written Confirmations of Oral Agreements; Letters as Channels of Trust Building) – The Status of Those Involved in the Exchange of Written Information
Chapter 12: Uses of Written Documents in the Process of Government
Administrative Letters – Writs
Chapter 13: The Documentary Culture of the Merchant Milieu
Conclusions
Appendix: Reigns of the Wallachian and Moldavian Princes (Fourteenth to Sixteenth Centuries)
Bibliography
Index