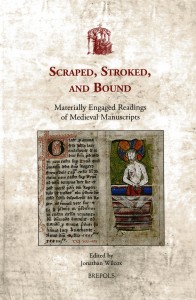 Scraped, Stroked and Bound: Materially Engaged Readings of Medieval Manuscripts, ed. Jonathan Wilcox (Turnhout, 2013: USML 23), xvi+238 pp. ISBN 978-2-503-54549-3.
This collection of essays makes an original contribution to medieval manuscript studies through deep engagement with the material side of book creation.  The volume brings together major scholars of medieval manuscripts with leading contemporary book artists.  The result is a ground-breaking collection which will be of interest both for its methodological implications and for the insights that the case studies provide.
In a sequence of interconnected essays, experts in the field of literature, history, art, and manuscript studies enact readings of medieval manuscripts that incorporate extreme attention to the materiality of the object of their study.  While the digital revolution has provided unparalleled visual access to medieval manuscripts, these essays are attentive to what has got left behind—not just the aura of the original, but also the engagement of the other senses, such as the feel of the binding, the heft of the volume, the smell of the parchment, or the sound of the pages.  By bringing together experienced medievalist scholars with practicing book artists of today, this volume brings back an artisanal sense of the complete book to an understanding of medieval manuscripts.
Contents:
Jonathan Wilcox, "Introduction: The Philology of Smell" 
Scribes in Action
 Matthew T. Hussey, "Anglo-Saxon Scribal Habitus and Frankish Aesthetics in an Early Uncial Manuscript"
Patrick W. Conner, "On the Nature of Matched Scribal Hands"
Cheryl Jacobsen, "A Modern Scribe Views Scribes of the Past"
 Substrata: Skin and Paper
 Jesse Meyer, "Parchment Production: A Brief Account"
Jennifer Borland, "Unruly Reading: The Consuming Role of Touch in the Experience of a Medieval Manuscript"
Timothy Barrett, "Parchment, Paper, and Artisanal Research Techniques"
Structure
Gary Frost, "Material Quality of Medieval Bookbindings"
Elsi Vassdal Ellis, "The East-West, Then-Now Binding Nexus"
Constance H. Berman, "The Cistercian Manuscript, Trent 1711, Version One and Its Exemplar"
The Whole Book
Karen Louise Jolly, "Dismembering and Reconstructing ms Durham, Cathedral Library, A.IV.19"
Martha Rust, "'Lymned to his awne vse': The Illuminated Realm of John Lacy, Book Artisan and Anchorite, in ms Oxford, St. John's College Library, 94"