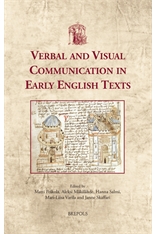 Verbal and Visual Communication in Early English Texts, ed. Matti Peikola, Aleksi Mäkilähde, Hanna Salmi, Mari-Liisa Varila and Janne Skaffari (Turnhout, 2017: USML 37), xii+280 pp. ISBN 978-2-503-57464-6.
The volume innovatively combines book studies with linguistics to explore the interplay of verbal and visual/material communication in early English manuscripts and printed texts.
When reading a text our understanding of its meaning is influenced by the visual form and material features of the page. The chapters in this volume investigate how visual and material features of early English books, documents, and other artefacts support – or potentially contradict – the linguistic features in communicating the message. In addition to investigating how such communication varies between different media and genres, our contributors propose novel methods for analysing these features, including new digital applications. They map the use of visual and material features – such as layout design or choice of script/typeface – against linguistic features – such as code-switching, lexical variation, or textual labels – to consider how these choices reflect the communicative purposes of the text, for example guiding readers to navigate the text in a certain way or persuading them to arrive at a certain interpretation. The chapters explore texts from the medieval and the early modern periods, including saints' lives, medical treatises, dictionaries, personal letters, and inscriptions on objects. The thematic threads running through the volume serve to integrate book studies with discourse linguistics, the medieval with the early modern, manuscript with print, and the verbal with the visual.
Contents:
Part I: Discourse Linguistics Meets Book History
Mari-Liisa Varila, Hanna Salmi, Aleksi M"kilähde, Janne Skaffari, and Matti Peikola, "Disciplinary Decoding: Towards Understanding the Language of Visual and Material Features"
Part II: Communicating through Layout
Colette Moore, "Discourse Variation, Mise-en-page, and Textual Organisation in Middle English Saints' Lives"
Francesca L. Mackay, "How the Page Functions: Reading Pitscottie's Cronicles in Manuscript and Print"
Maura Ratia and Carla Suht, "Verbal and Visual Communication in Title Pages of Early Modern English Specialised Medical Texts"
Jukka Turkkö, "Quantifying Contrasts: A Method of Computational Analysis of Visual Features on the Early Printed Page"
Part III: Communicating through Script and Typography
Yin Liu, "Stating the Obvious in Runes"
Anya Adair, "Labours Lost: William Caxton's "Otiose" Sorts, c. 1472-1482″
Samuli Kaislaniemi, "Code-Switching, Script-Switching, and Typeface-Switching in Early Modern English Manuscript Letters and Printed Tracts"
R.W. McConchie, "Seeing is Reading: Typography in Some Early Modern Dictionaries"
I.J. Marcus, "Whose Letters Are They Anyway? Addressing the Issue of Scribal Writing in Bess of Hardwick's Early Modern English Letters"