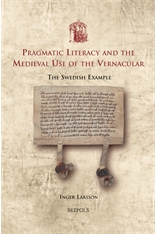 Inger Larsson, Pragmatic Literacy and the Medieval Use of the Vernacular: The Swedish Example(Turnhout, 2009: USML 16), xiv+250 pp. ISBN-13: 978-2-503-52747-5.
Late twelfth-century Sweden saw the beginning of a development that was to lead to a shift in ways of thinking and acting and to a growth in the uses of literacy. By that time the country had embraced Latin as the language of government and records, in contrast to neighbouring Norway, where the vernacular was used throughout the Middle Ages. The first texts in Swedish of any length were the provincial laws, which were written down throughout the thirteenth century. These laws were of paramount importance for the creation and propagation of a written Swedish language for administrative purposes. These written law-codes created linguistic models as well as opportunities for people who were not conversant with Latin to become part of the literate community. The watershed moment in this process was the issue of the national and town laws in the 1350s. These laws established the position of Swedish as the language of records issued by the judiciary. Thus written documentation was on its way to being integrated into legal procedure, which prior to this time had been overwhelmingly oral.
Larsson argues that the Crown, the expanding royal and local bureaucracy, the editing of the laws in Swedish and the laws' demands for written documentation in everyday legal transactions were the main driving forces behind the development of lay literacy for practical purposes. The history of pragmatic literacy in Sweden is traced through the use and contents of administrative and judicial documents and the creation of specific terms in Swedish for the various types of deeds and charters in use. Larsson also discusses examples of lingering orality, changes in certain oral ceremonies and the standardization of some types of deeds to facilitate the use for the less skilled as well as possible promoters of the spread of literacy and the existence and importance of certain literate milieus in connection with the editing of provincial and national laws.
Contents:
Introduction
Part I: Actors and Literate Milieus
Chapter 1: Three Kings – Three Epochs
Knut Eriksson, King 1167-1195/6 – Magnus Birgersson (Ladulås), King 1275-1290 – Growth of the Administration – Magnus Eriksson, King of Sweden, Norway and Skåne 1316-†1374 – New Legislation – Royal Administration and Government – Nils of Stång, the King's Representative and Town Bailiff in Linköping 1339-†1370 – Summary
Chapter 2: Laws and Official Service – Lawmen and District Chieftains
The Law Commissions as a Milieu for Promoting Literacy – King Magnus Eriksson's National and Town Laws – Lars Ulfsson and Knut Jonsson, Two Lawmen
Chapter 3: Private Issuers of Charters
Women as Issuers, Sealers and Landowners – The Role of Witnesses, the Use of Seals and Personal Names
Chapter 4: Summary of Part I
Part II: Charters and Legal Transactions
Chapter 5: Charters, Charter Types and Designations
The Most Common Surviving Charter Types – Deeds of Sale and Purchase, køpobreff – Deeds of Exchange, skiptis breff, bytis breff – Deeds of Gift: Wills, Morning-Gifts and Dowries, gaffuo breff, gifftebreff, testamentz breff, morgongawe breff, medgaf¬fuo breff – Title Deeds, fasta breff, iorda breff, gardsbref, landda breff, tomtabref – Letters of Attornment, maktbref, mäktabref – Mortgage Deeds, pantabreff – Boundary Deeds, rååbreff – Other Types of Charters – Travel Permits, skiutha bref – Safe-Conducts and Letters of Protection, leydha breff, dags breff and friþz breff – Letters of Judgement, dombref, ræfstabref – Receipts, quitto breff – Inheritance Distribution Documents,arffua breff – Undesignated Charter Types – Charter Content and Required Competence
Chapter 6: Lingering Orality
Rituals – Skötning – Umfærþ – Skaftfarning – Fæst – Charter Formulas – Allum þem mannum svm þetta bref høra ok sea… – Amen and valete
Chapter 7: Growing Written Standardisation
Normalisation of Content – Letter of Attornment, maktbref, mäktabref – Title Deed, fasto bref – Year, Date and Place – Charter Formularies and Written Models
Chapter 8: The Testimony of Terminology
 
Chapter 9: Summary of Part II
Conclusion
Appendix I: Timeline of Important Events
Appendix II: List of Swedish and English Terms
Bibliography
Plates