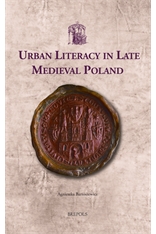 Agnieszka Bartoszwewicz, Urban Literacy in Late Medieval Poland (Turnhout, 2017: USML 39), xxiv+484 pp. ISBN 978-2-503-56511-8.
Detailed analysis of the basic features of literacy and urban culture in late medieval Poland.
From the end of the thirteenth century onwards, European towns exhibited a significant increase in the use of writing as a tool for administrative and economic purposes, as well as for social communication. The medieval towns of Poland are no exception to this pattern.
This book surveys the development of the literacy of Polish burghers in the fourteenth and fifteenth centuries, revealing socio-economic and cultural processes that changed the life of Polish urban society. Polish urban literacy is examined according to the reception of Western European urban culture more generally. Town networks in medieval Poland are explained, and the literacy skills of the producers and users of the written word are discussed. Literacy skills differed greatly from one social group to another, it is shown, due to the variety of town dwellers (clerics and lay people, professionals of the written word, occasional users of writing, and illiterates). Other issues that are discussed include the cooperation between agents of lay and church literacy, the relationship between literacy and orality, and the difference between developing literacies in Latin and in the vernacular languages.
Contents:
    Introduction: Urban Literacy in Late Medieval Poland: The Main Research Questions
About this Book – Status causae et controversiae ̶ The Sources – Scholarly Literature
The Urban Network in Late Medieval Poland
The Origins of 'German' Law in the Polish Lands – The Dynamics of Urban locatio in the Polish Lands during the Fourteenth Century – The Development of the Urban Network in the Kingdom of Poland after 1385 – The locatio-Movement in Mazovia until the End of the Fifteenth Century – The Stabilised Town Network in the Kingdom of Poland at the End of the Fifteenth Century – The Attitudes of the Rulers towards the Towns.
The Topography of Urban Literacy
Estimates of Alphabetisation in Towns – Factors Encouraging Urban Literacy: State and Church – The State's Administration and its Influence on Urban Literacy – The Church and Urban Literacy – The gens de savoir in Polish Towns – Levels of Education – Educational Opportunities in Town – The University – Cracow as the Intellectual Centre of Medieval Poland – Town and Gown in the Fifteenth Century – Education and Literacy Skills as an Instrument of Social Advancement and Prestige
The Polish Municipal Chanceries and Their Heritage
Stages in the Emergence of Urban Chanceries – Charters and Letters – Matters Treated in Charters and Letters – The Earliest Town Books – The Registers of the Bench – Legal Matters Treated in the Bench Books – Fluctuation of the Number of Cases Registered in the Bench Books – Joint Registers of the Bench and the Advocatus, and the Advocatus' Books – Registers of the Municipal Council – Legal Matters Treated in the Council Books – Fluctuation of the Number of Cases Registered in the Council Books – Account Books – Registers of New Citizens – Criminal Records – Registers of Wills and Testaments – Sources of Law: Legal Reference Works Produced and Preserved in Urban Chanceries – Law Codices, Collections of Legal Advice (Urteile) and of Urban Privileges – Urban Statutes (Willküren) – Documentation of Urban Guilds – Historical Writing in the Municipal Chancery
From Vernacular Memory to Written Record: Literate Behaviour and Legal Procedures
Gestures and their Meaning coram iudicio According to Normative Texts – Legal Culture – Notes in Bench Registers as Evidence for Oral Legal Procedures – Interaction between Script and Speech in Judicial Procedures – Transfer of Property Rights – The Frame of Ritual of the Activities of the Municipal Council – Wills and Testaments: A Field of Tension between Orality and Literacy – The Relationship between Latin and the Vernacular Languages – German Language in the Records of Urban Chanceries in the Polish Kingdom – Polish Language in the Records of Municipal Chanceries
Municipal Clerks
The Oldest Evidence about the Office of the Municipal Clerk – The Assistant Municipal Clerk – The Scribe of the Bench – The Clerk of the advocatus – Familiares notarii – The Position of the Municipal Clerk in the Urban Hierarchy – Duties and Qualifications – Wages in the Municipal Chancery – Other Employments and Sources of Income of Municipal Clerks – The Financial Status of Municipal Clerks – The Position of Municipal Clerks on the Urban Social Ladder – Municipal Clerks as a Professional Community – Clergymen in the Municipal Chanceries – Laymen in the Municipal Chanceries – Later Developments – Intellectual Municipal Scribes? – In Conclusion                    
Other Professionals of the Written Word in Polish Towns
The ministerialis civitatis – Prolocutores – Translators – Employees of the Chanceries of Tribunals for Noblemen – Public Notaries and Employees of Ecclesiastical Chanceries – Teachers of Parish Schools and Parish Priests – Makers of Manuscripts – Pauperes litterati – Notarii privati – Private Teachers – Scholares and studentes – The Economic Status of the pauperes litterati – The Numbers of pauperes litterati and Their Social Origins – The Position of the pauperes litterati in the Urban Community
The Written Word in the Life of Polish Town Dwellers
Business Registers – Commercial Letters and Documents – Wills and Testaments – The Functions of Written Records – Manuscript Books in Town – Women and the Written Word
Conclusion
Appendix: The Chronology of the locatio of the More Important Towns in the Kingdom of Poland