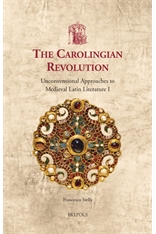 Francesco Stella, The Carolingian Revolution: Unconventional Approaches to Medieval Latin Literature I (Turnhout, 2020: USML 48), xviii+412 pp. ISBN 978-2-503-58799-8.
This book presents samples of experimental methods for reading medieval Latin texts that have scarcely been adopted, if at all, by mainstream research in the field. It contributes to the discovery of some underestimated aspects of early medieval (especially Carolingian) Latin literature: intertextuality as intercultural relationship (in Biblical epic), intermediality (text-image-sound connections), interdisciplinarity (science, religion, and poetry), hermeneutics (Biblical exegesis as poetry-engine), post-colonial reading (medieval Latin as a second language), socio-literary approaches (monastic epigraphs as witnesses of everyday life, writing as a status symbol of an intellectual class and a whole civilization). It also discusses quantitative methods, which are explored in more detail in a second volume, Digital Philology and Quantitative Criticism of Medieval Literature: Unconventional Approaches to Medieval Latin Literature II).
The book thus seeks to encourage scholarly interest in obscure or less familiar elements of the Carolingian literary renewal, interpreted here as more a laboratory of innovations than a revival of traditional patterns.
Preface
Chapter 1. Intercultural Imitation in Christian Latin Poetry as a Path to the Medieval Poetics of Alterity
Chapter 2. The Women of the Old Testament in Early Medieval Poetry: Judith and the Others
Chapter 3. Ad supplementum sensus: Hermeneutic Plurality and Increase in Meaning in Biblical Poetics from the Middle Ages to Derrida
Chapter 4. A Repressed Beauty: Biblical Poetics and the Legitimisation of Poetry in Medieval Culture
Chapter 5. The Poetics of Communication in the Carolingian Age
Chapter 6. A Lexical Journey through Alcuin's Poetry
Chapter 7. Some Linguistic Features of Popular Songs in Medieval and Modern Times
Chapter 8. Versus ad picturas in the Carolingian Era
Chapter 9. Verse Historiography in the Carolingian Era: The Political Typology of Ingelheim Paintings
Chapter 10. The Sense of Time in Carolingian Poetry: Christianising the Zodiac and Astronomical Observation in Pacificus of Verona
Chapter 11. Literary Epigraphy in the Carolingian Monastery
Chapter 12. Carolingian Verse Collections
Chapter 13. The Modern Success and Medieval Marginality of Modoin of Autun's Karolus Magnus et Leo Papa
Chapter 14. A 'Postcolonial' Approach to Medieval Latin Literature?
Bibliography
Indices